wardrobe refashion!!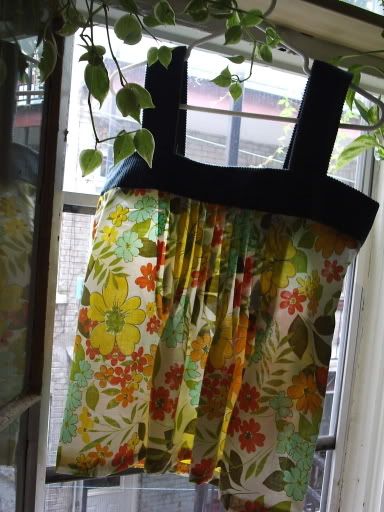 i finally finished two projects for
wardrobe refashion
. it looks like i'll make my two months with absolutely no problem, primarily because it takes me so long to unpick all of my sewing mistakes that there's no time to think about buying new clothing! in any case, complete with wonky sewing lines, dodgy fabric choices, bad measurements and equal parts frustration and pride, here are my first sewing projects that have resulted in actual objects, rather than unweareable weirdness. (please insert appropriate trumpets, drumrolls etc. etc.)
i'm also putting this in for my
whiplash
introduction. so this is me, this is my site, and this is my cute, but not very well sewn laptop case and top. as for me, i am myuglysweater, and i recently completed my PhD in Visual and Material Cultures. i'll be starting a postdoc in september looking at the links among textiles, wearable technologies, globalization, activism and crafting. i've been crafting since i was a child, but have become more involved in the scene and in a number of groups, of late. i'm a much better knitter than i am a sewer, but i owe my refusal to give up sewing (in spite of numerous piles of scraps, unwearable clothes and wrecked sewing needles) to my brother. for a long time i wanted a sewing machine, but couldn't afford it on my grad student penance. so my brother agreed to bring my mum's old machine across the country to me. it was stinking hot, and he and his girlfriend decided to stop off in another city along the way. their train to come here was at 5pm, and at 2pm the lights went off and the city was mired in the biggest power outtage ever (this will be well known to anyone from toronto). anyway, as the city ground to a halt, my brother walked through 30 degree (celcius) weather with a 70lb sewing machine to get to the train. 7km later, they made the train, but my brother made it very clear to me that if i didn't use the sewing machine i would owe him a 7km, plus 30, walk, complete with the 30 year old sewing machine (affectionately known as "the beast"). hence my repeated attempts to learn how to sew ... and now two new things that actually don't suck. yay!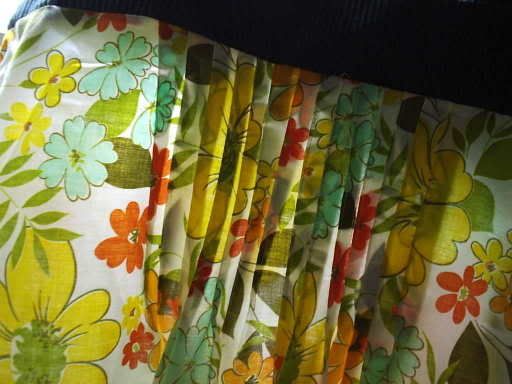 first up, a top (
pattern here
) that T and i called "eight months" the whole time i was sewing it, in honour partly of how long it was apparently going to take to make it, and a nod in the direction of the fact that smock tops tend to make me look like i'm having octuplets. strangely enough though, once i finished it and put it on, the tucks (which, according to my mum, i did completely incorrectly) actually turns it into a flattering top that looks as if i tailored it exactly to my size (ha! lucky accident). my mum also had a fit when i told her that i made the straps out of a thick corduroy ... who knew that some fabrics are taboo ... and sure enough, it doesn't lie exactly right, but i like it anyway. the fabric comes from my stash - it's from the 1970s, and i got it on ebay ages ago for a couple of dollars. the corduroy came from the bargain bin of a fabric store near my house (also ages ago), and the green facing (it can't be seen in the photo) is from an old sheet. i'm really pleased with this. it's not exactly my style, but the mere fact that it's wearable is enough for me!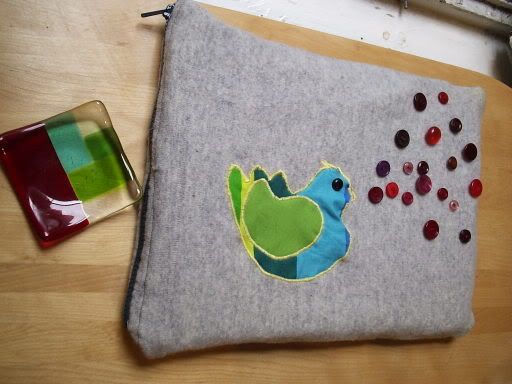 second is a laptop case for T. his old computer had a huge crack in it from where he got hit by a jeep when crossing the street (an ongoing hazard here where people tend not to look when they turn corners). anyway, he had to get a new computer once the duct tape stopped doing the job, so i made this to keep it looking new (and also as a somewhat belated birthday present). the grey material is an accidently felted sweater.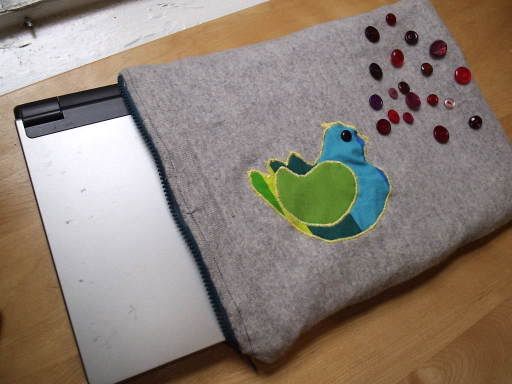 a couple of months ago, our washing machine decided to have a "moment," and all of the settings magically changed themselves - i did my laundry in cold, and it ended up felting/shrinking/ruining an entire load when it decided that cold meant hot. i was peeved because i had been wearing the sweater practically every day. hmph. nevertheless, i think it makes a nice computer case complete with a singing allouette. i'm actually secretly hoping that T might find this too girly and pass it on to me....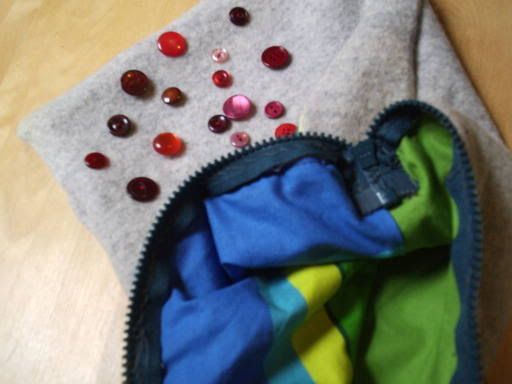 it's lined partly with an old pillowcase and more of the green sheet. i had to buy the zipper, and as i've never sewn a zipper in my life, i don't think that i did the best job of it. but, more beginner's luck - it fits the computer perfectly.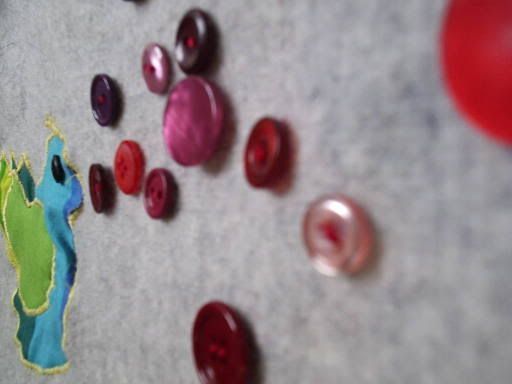 the little dish is by
caroline beale
, one of my favourite local artists. anyway, happy days! next up, i'm going to try and fix a skirt that i made a mess of last year, and finish a scarf that i started almost a year ago.